I wanted to hear from long time supporters on why they support Coastal Jazz, so I asked around. These are just a few of the stories and conversations I wanted to share with you. I'm looking forward to hearing your warm and fuzzy memories about the Jazz Festival someday soon too!
---
President of the Board Gary Kushnir on why he gives both his time and money (thanks Gary!) to Coastal Jazz:
Why do you support Coastal Jazz?
The obvious reason, I love the music.
My feeling is: there are very few things that connect the human experience. There aren't many things that we share a common point on and I believe we do in music. Humans need and want music in their life. It's a magical thing. Being involved in an organization that makes magic happen is the reason that I have committed my volunteer time and support to Coastal Jazz.
We know what happens at a gig and it's so good.
So WHY should people donate?
There's a misconception that because we are sponsored by TD and because we present so much free stuff that we have more resources. It's easy to equate free with little value; when something is free, you don't value it the same.
Do you know how often I'm asked; do you pay the musicians? [Of course we do!! – ZF] The costs, the risks, the liabilities, all the people who are behind this, there's so much more that goes into this thing.
Giving Tuesday is an opportunity for people who have never bought a ticket to show their appreciation, to all the musicians and volunteers, and board; a show of appreciation for all those magical moments they've had.
 STORY TIME! Why did you first volunteer?
1996 Mother's Day. I had left my marriage, couldn't see my kids, vacated my big house in the British Properties to be alone and living in a motel. I was reading the Georgia Straight (mid May) and it said Coastal Jazz was looking for volunteers.
Jeff Turner was the volunteer coordinator at the time and next thing I knew, I was an airport greeter.
Access was so different then, security was there but 9-11 changed the world. We had some sort of accreditation from Coastal where we got to be inside international [arrivals] when musicians were getting their baggage.
So this is my first volunteer experience, EVER, I'm there, waiting for Dee Dee Bridgewater when I met Han Bennink. No idea who he was (at the time) and all he says to me is: "Does Ken have my stuff??"
No idea who Ken was or Han Bennink was (Ken was the Artistic Director and one of the founders of the festival) I'm pretty sure it was pot, but thought "this is hilarious, totally unbelievable." I did that for three years.
I moved around to different volunteer jobs after that but the reason I'm on the board is because I moved into the office. (Finally met Ken too)
I was putting together parking passes one day when James Coverdale was in the office, and asked to speak with me. He was an impossible guy to avoid because he was one of the most wonderful guys, so interesting and engaging, I understood he was a past president, and he recruited me to be a board member!
James was involved. Intelligent, committed and believed in governance. Part of the reason I'm here is because I feel that I owe it to James & Ken.
Along the way, I've met some really, really, really dynamic and interesting people whom I became a colleague of and hopefully a friend of.
I choose Coastal Jazz to be the active volunteerism of my life. I do believe that giving back through stewardship, community engagement and volunteering (for us human beings who can) is very important.
---
Long-time supporter Barbara Kay on the incredible impact music can have in connecting people: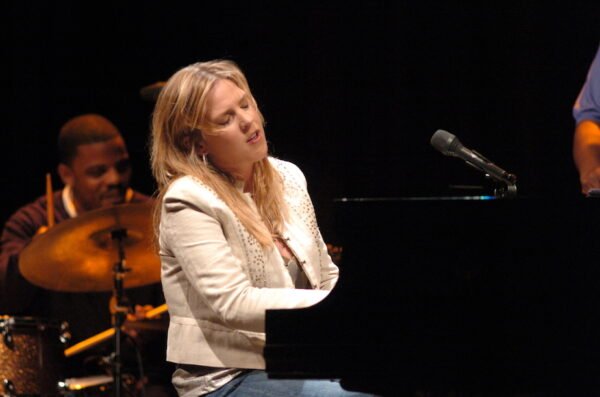 In 2000 my brother became a paraplegic due to a motorcycle accident. While he was in his long recovery, I regularly visited him and discovered we had a common love of jazz. (Before then, you could say we were unclose siblings, each busy with our separate lives.)
Once he became mobile in his wheelchair, we went to Jazz Festival events together. His last concert was Diana Krall at the Orpheum on one of those rainy Vancouver June nights and we were so elated, enervated, satisfied.
In 2005, a month after the concert, he passed away but with contentment having seen one of his favourite musicians perform so excellently.
Today is his birthday and I'm listening to the Jill Barber stream tonight, thinking of Robert as she is exactly his kind of musician.
Here's a picture with me and my happy 70th birthyear present to myself. It's an OHM ebike that I will be joyfully riding to 2021 Jazz Festival events. I'm so happy for the existence of CJBS, you, and your mates.  – Barbara Kay, Jazz Festival supporter for over 20 years
---
Deborah Roitberg: past Coastal Jazz board member and current Coastal Foundation for the Performing Arts board member 
So….you're a Jazz Festival OG right?
Yes, I was there from the start! I have a clear memory (1984/5) of being at our dining room table formulating and finalizing the concept for the first Jazz Fest. I was with Peter Thompson (with whom I lived), Ken Pickering, John Orysik, Robert (he was Bob then) Kerr, Ron Simmonds, and Paul Norton.
That first year was with local musicians and headlined by Jim Byrnes. At that time, it was only 4 or 5 venues.  The Savoy, The Classical Joint, the Town Pump (where I was ticket-taker and bouncer! HAH!) and I can't quite remember the rest, John would know!
What's one of your favourite Coastal offerings?
The concept of free concerts or the exposure to music is so important to me because all ages, all walks of life can attend. With no financial commitment, it really opens people's ears and minds to so much they might not have explored! The VAG weekend has become a great source of new music, and I've purchased many CDs on site from performers.
Do you have any funny stories from past festivals?
We used to host the volunteer party at my house, maaaybe the cops showed up a few times but there was NEVER an untoward incident, Anyway, one year, my mother dropped in to say hello while skinny-dippers were dipping! Her first glimpse of a naked man – other than my dad – an evening she still loves to recount.
Expo 86 I was backstage – looking on in horror – when Wynton strode onto Miles' stage unannounced (apparently there was a big feud going on). I spoke with Wynton about it many years later at the Landmark after a Coastal gig, wondering what on earth possessed him. His answer: one of the guys in the band bet me $50 that I wouldn't do it – so I did!!!
What do you miss most right now?
The hangs. In the early days, we often went back to the Lazy Gourmet [Deborah is a co-founder of The Lazy Gourmet] late at night after the gigs and would sit around eating, schmoozing.
David Lam Park – a nice walk over the bridge to listen to music with the most diverse audience imaginable. I always run into people I haven't seen for years and years and the programming is just like its audience, unique and diverse.
Why do you continue to support Coastal Jazz?
All four of our kids have grown up with connections to Coastal and benefitted from its programs. My son David was in the High School Jazz Intensive, and a few years later performed with his band at GI [Granville Island]. All kids volunteered with Eduardo in Production and my kid Julien was scheduled to play at the 2020 Festival (boohoo!).
At some point, when they were in their teens, they came to me as a group with (yet another) complaint: "Because of you, we can never listen to shit music. Even if it's a weird genre, it must be well done!" I happily accepted – guilty as charged.
---
Talking to our supporters reminds me why I donate to Coastal Jazz; it feels so good to be a part of this story. I fell in love with Coastal Jazz's exceptional programming, but I've stayed because of all the wonderful people I've met along the way.