My close friends know that, at one point, I wanted to be a professional drummer. In fact, I wanted to be a professional drummer so badly that I went to school to become one. And then I realized you have to have some talent to be a professional drummer, and it turned out that I had none of that. However, the drummers who are playing at this Vancouver International Jazz Festival do have a lot of talent, and here are seven that you should absolutely check out.
Steve Smith, with the Groove Blue Organ Trio (Frankie's Jazz Club, June 28 & June 29)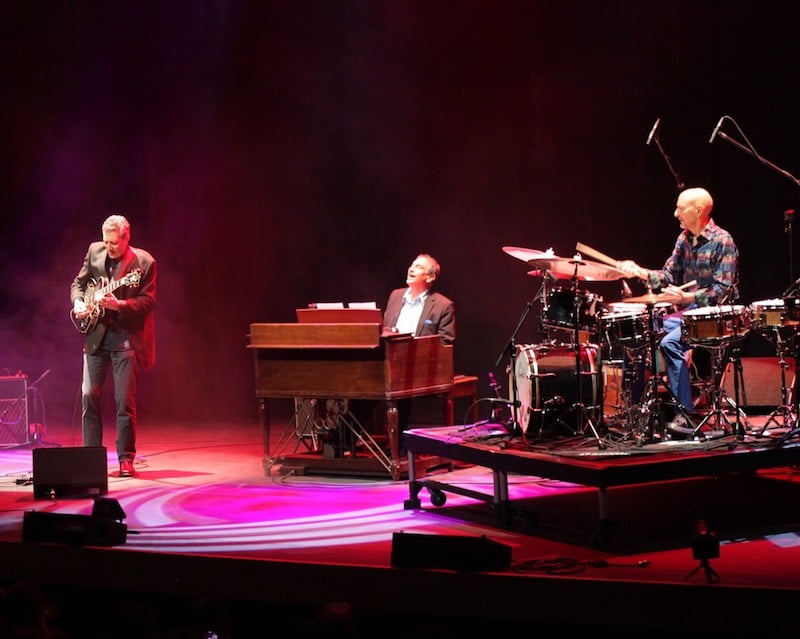 Smith's work with Jean-Luc Ponty and Vital Information have made him a much loved drummer in the jazz and fusion scenes for decades, and his work as a session player and with Journey has brought him a mainstream fan base that jazz drummers don't often get to enjoy. His passion for jazz permeates everything he does, and remains a primary focus for him, to this day. He's leading a traditional organ trio this year, and I expect a full house at Frankie's for these shows.
Makaya McCraven (The Imperial, June 26)
Is there a hotter drummer than McCraven right now? He blends jazz with electronic music and hip-hop almost effortlessly, and his series of albums for International Anthem have become highly regarded among beat makers and jazz enthusiasts alike. Much like Sons of Kemet was last year, I suspect this will be one of the most talked about shows of this year's Jazz Festival.
Gerald Cleaver, with Tony Wilson & Luke Stewart (The Ironworks, June 28), with Farmers By Nature (The Ironworks, June 28), and with Tomas Fujiwara's Triple Double, (The Ironworks, June 29)
Over 10 years ago, Cleaver released an album called "Detroit", that remains one of the best albums of this century, at least in my opinion. Since then, he's only cemented his legacy as one of the great drummers in modern improvised music, and is one of my personal favourites. He's playing in two trios at The Ironworks this year: An improvised collaboration with Tony Wilson and Luke Stewart, and a set with Farmers By Nature (his long-running trio with William Parker and Craig Taborn). He's also sharing drumming duties with Tomas Fujiwara as part of his Triple Double band.
Jim Black, with Endangered Blood (The Ironworks, June 26), with Ikue Mori (The Ironworks, June 24), and with Gord Grdina, Oscar Noriega, and Mat Maneri (The Ironworks, June 25)
The first time I ever saw Black live was over 20 years ago, with Dave Douglas' Tiny Bell Trio. I was hooked. He was like some illegitimate son of Han Bennink and Art Blakey, and has been one of the most creative, energetic drummers on the scene ever since. He's playing in three great groups at The Ironworks this year. First up is a duet with Ikue Mori, one of the most important musicians in the contemporary avant-garde scene. Next he'll be in a great collaboration with Gord Grdina, Oscar Noriega, and Mat Maneri. And finally, he'll be playing with Endangered Blood, his long-running band with some of the biggest names of the '90s New York downtown scene.
Antonio Sanchez, with Migration (The Blueshore at Capilano University, June 26)
I've seen Sanchez several times over the years, and I'm always amazed at his technical virtuosity. I get exhausted just thinking about how much work he has put into honing his craft. He's been widely renowned ever since he started playing with Pat Metheny, but has become even more so after his work on the soundtrack to Birdman. If you like your fusion to be thoughtful, yet blistering, this is the show to catch.
Tomas Fujiwara, with Triple Double (The Ironworks, June 29), and leading a workshop (Roundhouse Studio, June 29, for FREE!!!!)
I've been fortunate enough to introduce Tomas Fujiwara many times over the years, in a wide variety of collaborations. I've always been struck by his creativity as a drummer, but also in his musical leadership. His ability to command respect on the bandstand is a skill that only comes with experience, something he has a lot of at this point in his career. This year, he's leading his Triple Double band at The Ironworks. There are several reasons to be excited about this group (Mary Halvorson! Ralph Alessi! Brandon Seabrook!), but the fact that Fujiwara is sharing drumming duties with Gerald Cleaver is pretty much the best news I've ever heard.
Dave Robbins, with his Sextet (Frankie's Jazz Club, June 27)
If you love jazz and live in Vancouver, chances are that you've seen Robbins play around town a time or two. His propulsive style has been a mainstay of our scene since the 1990s, but his priority right now is his great new hard bop album on Cellar Live, and the release party that's happening at Frankie's Jazz Club during the festival.