As we begin to share the many hilarious, touching, profound, and silly stories you shared with us about the Festival, we thought we'd start with some of our insiders: our board members.
Nou Dadoun has been around since Day 1, and here he shares how he first got involved.
---
This is the (slightly epic) story of how I came to be involved with the very first Vancouver International Jazz Festival in 1986.
First a little background – I've always been a music nut!  I moved to Vancouver in 1979 (with a few thousand LPs) to do graduate work at UBC and immediately set out to discover all the music the city had to offer.  I became a transportation volunteer at the Folk Festival and from 1980 on made an annual pilgrimage to the Jazz City Festival in Edmonton where I occasionally volunteered driving some musicians around and helping out in the office. I made friends with the director Marc Vasey and even sat in on some meetings about trying to start a satellite festival in Vancouver. I tried a couple of times to get a jazz society off the ground – I even approached Brian Nation about using the name The Vancouver Jazz Society which he had run in the '70s (but he wasn't having any of it!).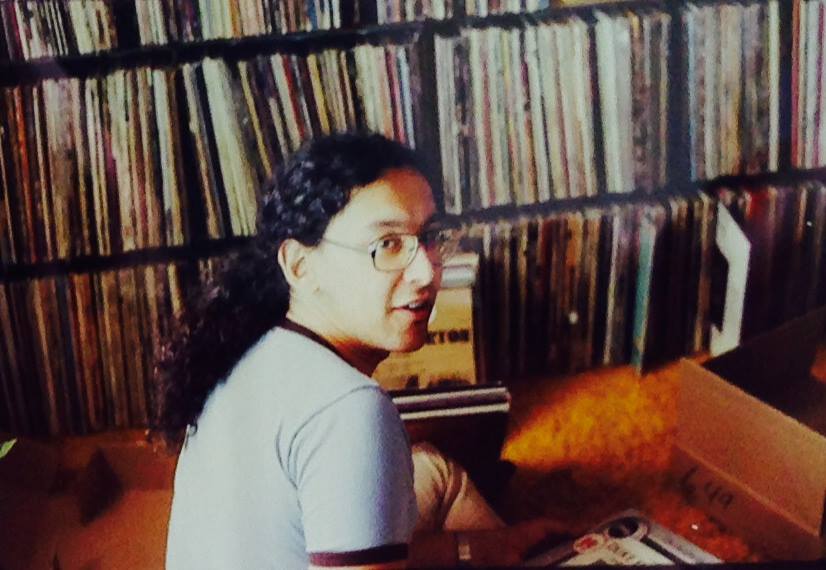 I was also a regular customer at Black Swan Records (and most other record stores in town) – I had a daily route cycling home from UBC along 4th Avenue stopping in at Scorpio Bob's and the Swan occasionally pushing down to The Magic Flute and Quintessence/Zulu Records for more goodies.
Sometime around May or early June of 1986 I heard through the grapevine that a new jazz festival was being organized by some guys out of the back of Black Swan Records.  So on one of my regular afternoon stops at Black Swan, I gave the guy behind the counter my name and phone number and said that I'd had some experience driving for the folk and Edmonton jazz festivals.  I got a phone message a couple of days later asking me to drop by Black Swan a couple of days after that for a meeting.  This was about a week and a half before the start of the festival and I figured I know the drill – transportation meeting, everybody shows up, you pick up your t-shirt and sign up for your driving shifts and everything's ready to go.
That day when I got to Black Swan and went into the back, I was surprised to see that there were only two guys there – Ron Simmonds and Ken Daskewich – and they were just yakking back and forth about general stuff to do with the upcoming festival.  This went on for a few minutes and I finally interrupted and said "well, I'm here for a meeting, what is it you guys want me to do?"  Ron turned to me and said "you're going to organize the transportation for the festival along with this other guy who couldn't make the meeting!"
After I picked my jaw off the floor, Ron told me that the "other guy" was somebody named Don Chessa who had been tapped to organize transportation because he was a jazz-loving bus driver and they figured he knew how to move people around!   Ron gave me a sheet of foolscap with a hand-written list of names and phone numbers of people who were potential drivers (remember this is all pre-email/internet) and a hand-written list of some airport arrivals and departures.  I went home wondering what the hell I was getting myself into!
I had a meeting with Don at his house a couple of nights later but ended up spending most of the night having drinks, listening to records and comparing notes on what concerts we'd gone to. (We definitely hit it off right away!) I made a few phone calls from home in the following week but there was no society or festival office until the festival started – when people say that the first Vancouver International Jazz Festival was organized out of the back of Black Swan, they're not joking, two desks in a space about 8 feet square!
Once the festival started we moved into a site office that was off to one side of one of the theatres (a festival venue!) in the Robson Square Media Centre, we got a transpo desk and a phone and hit the ground running! I met the three founders Ken Pickering (who I'd met previously as the owner of Black Swan), Robert Kerr and John Orysik and a whole bunch of other people who would become life-long friends. But for the next 10 days, I got no more than 2 or 3 hours of sleep a night and barely made it out of the office during the day.  Although this was during Expo with major Expo concerts as part of the festival, I never made it to any of the Expo shows although I sent lots of drivers, musicians and equipment there. (Somebody said "hey did you hear that Wynton just walked onstage while Miles was playing?") Most of the time was spent trying to figure out the logistics of getting people and equipment to the right place on the fly and contacting potential drivers.
My old friend Mike Brooks told me that he knew we were in trouble when he got his phone call asking him to come down and do some driving. He said, "OK, when do you need me?" He heard a tremor in the voice, "Can you come down right now?"
One of my highlights of the week came when Deborah Roitberg (founding Coastal Jazz Board member and then co-owner of the Lazy Gourmet) found out that it was my birthday and brought a birthday cake to one of the after-hours gigs at the Classical Joint – I happily offered a piece to one of my musical heroes Abdullah Ibrahim who was hanging out at the Joint after his gig with his big band Ekaya! (I'd actually had some adventures with him earlier in the week, many of the artists were being housed at the residences at UBC and when Abdullah discovered that there was no phone for him to make his usual all-night calls, he refused to stay there!) That was the first but throughout all the years of the festival, my birthday has always fallen on a festival day and I've always had a jazz festival wrapped around it to help me celebrate!
We survived the week in the office occasionally shuffling next door to hear concerts (hey you wanna hear some young guitar player named Bill Frisell?) and hanging out after hours. Much of the time, it was harder to schedule somebody than to just do the driving myself so I would venture out of the office to the airport or the Western Front or Granville Island or the New York Theatre etc.
The last night of the festival, the closing concert at the New York Theatre was the Cedar Walton trio with Charlie Haden and Billy Higgins. After the gig at about 1 a.m. Cedar was tired and just wanted to go back to the hotel but Charlie and Billy were up for a hang. We arranged to go back to Deborah Roitberg's place on 12th near Dunbar – Deborah, Billy and I rode in Deborah's Citroën and Ken went with Charlie and Ruth in her big red convertible (she has family in Vancouver). Deborah stopped at the Lazy Gourmet (then a storefront on 4th Avenue) and the phone was ringing – Charlie was on the line and said laughing "don't forget to bring that chicken I like!" Billy was intrigued by my name and wanted to know if I was a Muslim – I explained that I was a Sephardic Jew from Casablanca and we had a great talk about Morocco and North Africa where he'd spent some time.
We all rendezvoused back at Deborah's house and sat eating, drinking, laughing and talking about music, politics and the world until sunrise. Ruth and Charlie gave Billy a ride back to the hotel and Ken and I took the bus back to the Robson Square office to deal with last minute post-festival stuff. When i got there I realized that I'd forgotten to schedule someone to drive Kenny Wheeler to the airport for his flight so I went and got him out there myself. For the next few nights I kept waking up in a panic in the middle of the night thinking that there was someone at the airport waiting to be picked up!
Ken confided to me later that in 1986 he programmed the biggest blowout festival he could imagine with all his dream artists because he thought he'd never get a second chance! But amazingly the festival not only survived, it thrived and continues onward although sadly Ken, Billy and Charlie are all gone now …
And that's the (condensed) story of how I got involved with the jazz festival! I may be the only one besides John Orysik who has been to every festival since 1986!
Addendum: At the post-festival party held a couple of nights after the end of the 1986 festival at Don Chessa's house, Robert Kerr was telling people that he was going to be married that summer and would be going on a month-long honeymoon trip to Africa. He was asking around if anyone wanted to do his radio show The A-Trane while he was away. I said "sure, I'll give it a try" and I did! I had so much fun that after he got back we agreed to alternate doing the show week to week and did just that until he had to withdraw in about 2008 when he got seconded to run the Cultural Olympiad for the 2010 Olympics. And so this summer I start my 35th year doing the A-Trane!