Jamie Lee Trio
Presented with  
Jamie Lee Trio is a Vancouver-based jazz piano trio led by drummer and composer Jamie Lee. Formed during their time at Capilano University, the trio plays genre-defying original music inspired by exploring soundscapes and painting melodic stories. Grounded in Jamie's intricate compositions, the trio brings narratives to life through explosive improvisation and nuanced interplay.
The trio's debut full-length album, Introspective, was released last February, and consists of 10 of Jamie's original songs. The title of the album signals a self-reflective deep dive into the artist's mind and explores the subjects that preoccupy her inner world—from enjoying striped socks to profound realizations about life as an immigrant, queer person, and instrumentalist.
With James Dekker piano and Marcus Abramzik bass.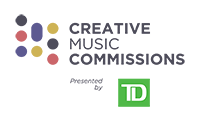 Presented with the additional support of

---
Feb20