Alvaro Rojas' Gran Kasa
Presented with  
Alvaro Rojas is an award-winning guitarist and composer based in Vancouver. As a guitarist he performs regularly with his trio, as well with other local artists in the pop, rock, jazz and improvised music communities. As a composer, he has written music for choir, big band, orchestra, various chamber groups, and has had his works performed by many of Canada's finest new music groups, including Turning Point Ensemble, Aventa Ensemble, and the Microcosmos String Quartet.
Gran Kasa, his latest project, features an all-star lineup of Canadian musicians from the jazz, improv, and world music scenes. Gran Kasa combines elements of Afro-Peruvian rhythm and form with Rojas' own unique approach to melody, harmony, texture, and sound, resulting in forward-thinking music that puts old and new together in a thrilling sonic experience.
With Meredith Bates violin, Peggy Lee cello, James Meger bass, Chris Gestrin keys, Sam Cartwright drums, and Liam MacDonald percussion.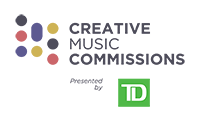 Presented with the additional support of

---
Feb21