The Avett Brothers
Orpheum Theater, Thursday October 17

Concord, North Carolina-based indie folk-pop favorites The Avett Brothers will be at the Orpheum Theatre of Vancouver on October 17. The boys immersed themselves in their musician dad's record collection, falling in love with Bob Dylan, Neil Young, and Crosby, Stills & Nash. Since then, they've become genre stalwarts over the course of seven albums, including 2012's The Carpenter. However, in open letter to fans the guys have announced that another full-length album is set to release October 15, 2013. The Avett Brothers at the Orpheum Theatre with special guest Nicholas David October 17. Tickets at Ticketmaster.ca, 855-985-5000 or all Ticketmaster outlets


---

Carnegie Community Centre Presents Jazzing Up Carnegie
The Cultch, Wednesday September 18

A concert to raise funds to upgrade the Carnegie Centre Theatre at The Cultch 1895 Venables Street, Vancouver
Wednesday September 18, 2013 • Reception 7-8pm • Show 8pm
Tickets $65.00 advance purchase • $75.00 at the door
Tickets through the Cultch box office • tickets.thecultch.com (24hrs online) or by phone at 604.251.1363

Some of Vancouver's top jazz performers, including Hugh Fraser, Paul Plimley, and Dalannah Gail Bowen, join the 17-piece Carnegie Jazz Band, led by trombonist Brad Muirhead, for an evening of unbridled music to raise funds to "jazz up" the Carnegie Centre Theatre. All proceeds will go towards upgrading the sound system and renovating one of the most heavily used community spaces in the Downtown Eastside where local residents and friends enjoy free entertainment and programs every day of the year. Please join us for thrilling music, delicious hors d'oeuvres courtesy of the Carnegie Kitchen, and a worthy cause.

Here's the full list of performers: Paul Blaney, Dalannah Gail Bowen, Dennis Esson, Hugh Fraser, KedrickJames, Brad Muirhead, Paul Plimley, Reach for the Sky (Tony Wilson, Jeremy Holmes, Liam MacDonald, Debra-Jean Creelman, Scott Smith), Stefan Smulovitz, The Carnegie Jazz Combo & 17 piece Carnegie Jazz Band, with Nou Dadoun, MC (host of Co-op Radio's The A-Trane), and Brad Muirhead, Musical Director.

Carnegie Community Centre — often referred to as the living room of the Downtown Eastside — provides social, educational, cultural and recreational activities on-site, at nearby Oppenheimer Park and through an outreach team. The programs serve low income adults with the goal of nurturing mind, body, and spirit in a safe and welcoming environment. For more info, please check out www.carnegiecentre.ca

We gratefully acknowledge the support of the City of Vancouver, the Cultch and Coastal Jazz and Blues Media Contact: Koralee Tonack at Diane Kadota Arts Management tel.604.683.8240 / fax.604.683.7911 koralee@dkam.ca


---

Autumn's Embrace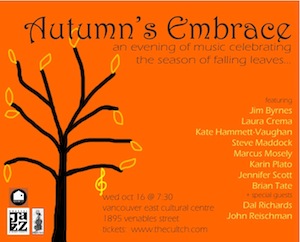 The Vancouver East Cultural Centre, Wednesday October 16 at 7:30pm

Stikjazz Music and Coastal Jazz and Blues Society, producers of the TD Vancouver International Jazz Festival, are proud to present eight highly acclaimed and artistically diverse vocalists in a special concert on Wednesday October 16th 2013 at 7:30 PM. The concert will be held at the Vancouver East Cultural Centre 1895 Venables Street. Tickets are $35.00 and are available at tickets.thecultch.com or phone 604-251-1363

Jim Byrnes, Marcus Mosely, Steve Maddock, Brian Tate, Laura Crema, Kate Hammett-Vaughan, Jennifer Scott and Karin Plato will be the featured vocalists. They will be performing solos, duets and ensemble arrangements of blues, jazz and folk songs. Canadian icon Mr. Dal Richards will make a special guest appearance singing one of his signature songs and bluegrass star John Reischman will also be a special guest performer. The band includes award winning pianist Chris Gestrin, clarinetist James Danderer, bassist Laurence Mollerup & drummer Joe Poole.

With such a diverse array of talent the concert is certain to appeal to a wide ranging audience. This concert will be a rare occasion to see all these artists together on the same stage. Many of them have busy solo careers which take them on tours through- out North America and beyond. October 16th has them coming together to share music in their home city of Vancouver. 


---

CELLAR TURNS 13!
HELP US CELEBRATE WITH CELLAR OWNER CORY WEEDS & THE LEGENDARY HAROLD MABERN TRIO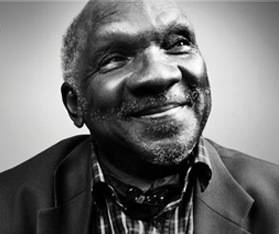 September 26 - 29, Thursday through Saturday

featuring CORY WEEDS tenor saxophone, HAROLD MABERN piano, JOHN WEBBER bass and JOE FARNSWORTH drums.

Celebrate the finest jazz club that Vancouver has ever known with Juno Award Nominee and Cellar owner CORY WEEDS with the legendary pianist HAROLD MABERN.

Harold Mabern, one of jazz's most enduring and dazzlingly skilled pianists, was born in Memphis, a city that produced saxophonists George Coleman and Charles Lloyd, pianist Phineas Newborn Jr. and trumpeter Booker Little. He was an unsung hero of the 1960s hardbop scene, performing and recording with many of its finest artists, and only in recent years has he begun to garner appreciation for his long-running legacy in jazz and the understated power of his talent; as critic Gary Giddins has written, "With the wind at his back, he can sound like an ocean roar."

During his over half-century on the scene as sideman and leader, he has played and recorded with such greats as Lee Morgan, Sonny Rollins, Hank Mobley, Freddie Hubbard and Miles Davis, just to name a few. "I was never concerned with being a leader, I just always wanted to be the best sideman I could be. Be in the background so you can shine through."

BROUGHT TO YOU IN PART BY THE HARD RUBBER NEW MUSIC SOCIETY and THE COASTAL JAZZ & BLUES SOCIETY $59.00 including two course meal more info - http://www.coryweeds.com


JAZZ CELLAR FALL LINEUP

11 SEPTEMBER 2013 - THE BEN LOCKWOOD QUARTET – CELEBRATING THE MUSIC OF DEXTER GORDON
featuring BEN LOCKWOOD tenor sax, TILDEN WEBB piano, GRAHAM CLARK bass, JOE POOLE drums, plus special guest CORY WEEDS tenor sax $10

12 SEPTEMBER 2013 - VINO & FORTE
$20 more info - http://www.vinoandforte.com

13 SEPTEMBER 2013 - ORRIN EVANS TRIO
featuring ORRIN EVANS piano, ERIC REVIS bass, MATT JORGENSEN drums $15
more info - http://www.orrinevansmusic.com

14 SEPTEMBER 2013 - ORRIN EVANS TRIO
featuring ORRIN EVANS piano, ERIC REVIS bass, MATT JORGENSEN drums
$15 more info - http://www.orrinevansmusic.com

15 SEPTEMBER 2013 - KAREN GRAVES QUARTET
$12 more info - http://www.karengraves.com

16 SEPTEMBER 2013 - BLUE MONDAY ALL-STARS WITH NADINE STATES & STEVE DAILY
Reservations are suggested at (604) 738-1959 www.cellarjazz.com $10/$5 students

18 SEPTEMBER 2013 - THE MARIA HO QUARTET
featuring MARIA HO vocals, RON JOHNSTON piano, DARYL JAHNKE guitar and DAVE GUINEY acoustic bass $15 more info - http://musicalbreeze.ca

19 SEPTEMBER 2013 - SOPHIA PERLMAN QUARTET featuring SOPHIA PERLMAN vocal, ADREAN FARRUGIA piano, ROSS MACINTYRE bass, JEFF HALISCHUK drums $15 more info - http://www.sophiaperlman.com

20 SEPTEMBER 2013 - JACQUI NAYLOR QUARTET - DEAD DIVAS SOCIETY CD RELEASE
featuring Art Khu piano & guitar, Steve Smith bass, Bernie Arai drums $15 more info - http://www.jacquinaylor.com

21 SEPTEMBER 2013 -JACQUI NAYLOR QUARTET - DEAD DIVAS SOCIETY CD RELEASE
$15 more info - http://www.jacquinaylor.com

22 SEPTEMBER 2013 - NICK FRASER QUARTET FEATURING TONY MALABY (TORONTO/NEW YORK)
feat. NICK FRASER drums, TONY MALABY saxophones, ANDREW DOWNING cello, ROB CLUTTON bass $15

25 SEPTEMBER 2013 - SMOKED PIANOS - A 2-PIANO DUEL
featuring JOHN STETCH piano, JAN JARCZYK piano $15/$10 students more info - http://www.johnstetch.com

30 SEPTEMBER 2013 - BLUE MONDAYS WITH SPECIAL GUEST LESLIE HARRIS


---

Returning to Vancouver – The Sacred Music of Duke Ellington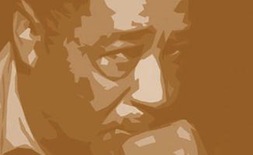 St. Andrew's-Wesley United Church, Thursday November 14th at 7:30pm

Internationally-renowned artists to be featured in a benefit concert at St. Andrew's-Wesley United Church. Duke Ellington is best remembered as perhaps the finest and most influential composer in the history of American jazz. He was also a man of deep spiritual convictions. Late in his career, he wrote three programs of inspirational music between 1965 and 1973 that blended his peerless tonal artistry with the celebratory energy of classic gospel music. Ellington's last sacred concert was performed only seven months before his death, and although very ill, he gave an inspiring performance of his sacred music classics. Don't miss this amazing production on Thursday, November 14th at 7:30 p.m. Tickets: www.eventbrite.ca


---

Hard Rubber Orchestra Tribute to the Great Kenny Wheeler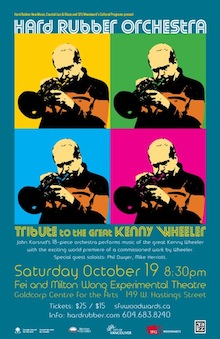 Fei & Milton Wong Experimental Theatre, Saturday October 19

On October 19, 2013 The Hard Rubber Orchestra will play an entire evening of music - including the premiere of a new commissioned work - by Jazz Legend Kenny Wheeler. Wheeler (b. Toronto, 1930) is one of the world's best known jazz musicians and undeniably one of the greatest master composers for the jazz orchestra.

His compositions are hugely influential, often imitated, and unique to the world of jazz and large ensemble composition. At 83, Wheeler, who is presently a resident of London England, is no longer able to travel or perform but is still highly active as a composer. It is an unprecedented honour for us to play a commissioned work by one of history's great composers for the jazz orchestra, especially from this period of his life and career.   Guest soloists will be Phil Dwyer on saxophone and Mike Herriott on trumpet.  Guest conductor will be trombonist/ pianist Hugh Fraser.




---

Caravan World Rhythms & Julio Montero present with the support of Coastal Jazz and the Chan Centre Grammy-winning Flamenco Jazz Diva BUIKA
Chan Centre at UBC, Saturday December 6 at 8pm

Tickets $35 - $55 plus s/c Available online at www.ticketmaster.ca, by phone 1-855-985-2787
Or in Person at Chan Centre Box Office (no service charges), Rio Azul (638 West Broadway - no service charges) & Highlife Records (1317 Commercial - $5 service charge)

"Though compared to Nina Simone, Billie Holiday and Edith Piaf, she sounds like no one but herself. "— Los Angeles Times Only a unique confluence of cultural influences could produce an artist as strikingly original as Buika, who has earned a devoted cadre of fans and collaborators ranging from celebrated filmmaker Pedro Almódovar to musicians Seal, Rachelle Ferrell, Anoushka Shankar and Nelly Furtado. Born in Spain to parents in political exile from Equatorial Guinea, she grew up on the Spanish island of Mallorca. She was exposed to great jazz singers by her mother and forged a breathtaking, soul-drenched vocal style combining traditional Spanish-Gypsy laments of flamenco with soul and jazz improvisation. A commanding performer with a husky, crushed-velvet voice, Buika saw her career catch fire in 2009 with El Último Trago, a collaboration with Cuban piano giant Chucho Valdés. And during Chick Corea's recent month-long residency at the Blue Note in New York, Buika was featured in his stunning flamenco ensemble.

Buika is joined by one of Cuba's top jazz pianists Ivan Gonzalez Lewis & percussionist Ramon Suarez Escobar. LINKS:  www.caravanbc.com  www.conchabuikamusic.com

PRE PUBLIC SALE OFFER TO COASTAL JAZZ MEMBERS! Get the best seats to see Flamenco Jazz Diva from Spain, CONCHA BUIKA! Use the password "Spain" on the Buika page of the Tickemaster website.




---