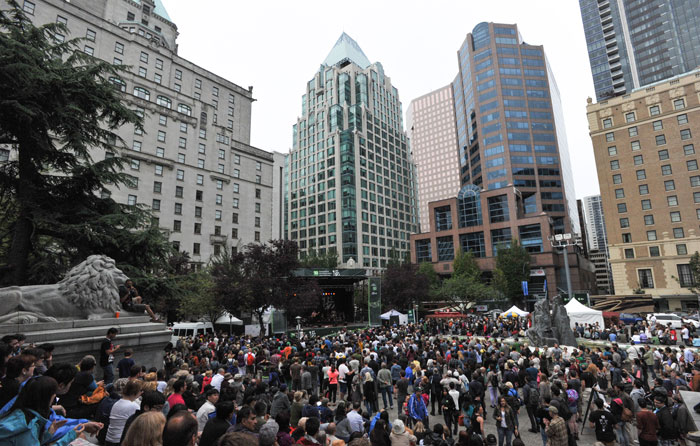 "The Downtown Jazz Weekend is now one of the most anticipated events within the Jazz Festival" notes Media Director and Co-Founder of the Festival, John Orysik. "Everything from the cool site design to the exceptional calibre of artists, to the thrilling vibe generated by large, enthusiastic audiences speaks to the success of the Festival's capacity to animate the heart of our city."


Saturday, June 21
GEORGIA STAGE
12:30pm - Dal Richards & His Orchestra
2:15pm - The High Bar Gang
3:45pm - Florence K
5:15pm - Lady
7:30pm - The Boom Booms


ROBSON STAGE
12:00pm - Celia Enestrom and Zazueira
1:30pm - Alexis Baro Quintet
3:00pm - High Society
5:00pm - Rumba Calzada
6:45pm - Company B Jazz Band



Sunday, June 22
GEORGIA STAGE
12:30pm - Partisans
2:15pm - Bushman's Revenge
3:45pm - Ester Rada
5:15pm - Hedvig Mollestad Trio
7:30pm - Nomadic Massive


ROBSON STAGE
12:00pm - Andrea Superstein
1:30pm - Laila Biali with special guest Phil Dwyer
3:00pm - Brandi Disterheft Quartet
5:00pm - Electric Miles
6:45pm - Brad Muirhead & Propulsion


Help keep the free music flowing – Buy 50/50 Tickets at Downtown Jazz. Even if your number isn't drawn you still win! Details
Upload a Selfie and you could see yourself on the big screen at Downtown Jazz, on a Superboard at the Burrard, Lions Gate and Second Narrows Bridges and on our website. Details
Family Zone has moved from the ice rink level to the former Howe Street Bistro location and will provide families convenient access to food trucks, a sitting area, the artisan market and level access to stages on either side of the Art Gallery.

Families can also participate in all kinds of activities at the Family Zone or relax at the TD Comfort Zone.

The Howe Street Bistro has relocated to Robson Street to allow our bistro patrons to watch live entertainment on the Robson Stage while relaxing and enjoying refreshments.
Those in the mood can shake it up with our rotating DJs during the Silent Dance Party presented by Sennheiser.



NEW! TIME (Tonal Interactive Media Experiment)
Also new this year is TIME (Tonal Interactive Media Experiment) at the ice rink level - Robson Square. TIME is an interactive installation designed to explore some of the more innovative uses of the guitar effects pedal. These tactile and enticing machines are a clear link between the themes of sonic and visual art. Developed in collaboration with Creative BC and the British Columbia Arts Council.