New concert series from January to March 2015
Taking place from January through March, the Bright Moments Series features five concerts that promote the innovative, cutting edge pillar of Coastal Jazz's programming. Performances will be held at The Ironworks and Pyatt Hall.

The inspiration for the Series comes from the late James Coverdale, a past President of Coastal Jazz. James was an ardent supporter of music, but especially the most adventurous, creative, and open improvisational forms of jazz. Bright Moments serves his legacy and is dedicated to his generous spirit and tireless energy.
---
Food with Thomas Strønen and Iain Ballamy
Thursday, January 15 @ The Ironworks at 8pm
$15 + SC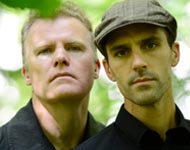 Since its first concert in 1998 this groundbreaking group has toured internationally making thought-provoking improvised music of great depth, texture and beauty.

Iain Ballamy from the UK on saxophones/ electronics and the Norwegian Thomas Strønen on drums/percussion/electronics use sound, space, and contrast to produce ever-changing moods. Read More


---
Thumbscrew
Saturday, February 7 @ The Ironworks at 8pm
$18 + SC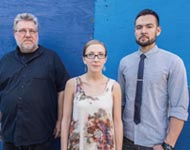 Thumbscrew is a new collective band comprising three giants of New York's creative jazz scene - guitarist Mary Halvorson, bassist Michael Formanek, and drummer Tomas Fujiwara.

Fusing jazz, rock and improvisational styles, the trio has developed an original book of music that buzzes, crackles, burns and croons. Read More
---
Lee Konitz and Dan Tepfer
Wednesday, February 18 @ Pyatt Hall at the VSO at 8pm
$25 + SC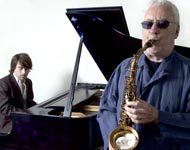 Legendary alto saxophonist Lee Konitz has been at the forefront of modern jazz for over 50 years.

Recently Lee has partnered with young award-winning Brooklyn-based pianist Dan Tepfer for a series of improvised musical conversations.

Read More
---
Sheila Jordan and Cameron Brown
Tuesday, March 3 @ The Ironworks at 8pm
$20 + SC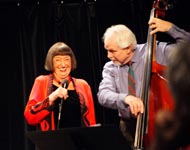 Sheila Jordan is one of the finest jazz singers since Billie Holiday. Her voice, like Billie's, resembles a saxophone improvising on a melody with exquisite tonal shadings, and communicates emotion so directly it can be heart-wrenching.

Jordan performs with long-time collaborator bassist Cameron Brown who has worked with Don Cherry, Art Blakey, and Joe Lovano among others. Read More
---
John Stetch (solo piano)
Friday, March 20 @ Pyatt Hall at the VSO at 8pm
$20 +SC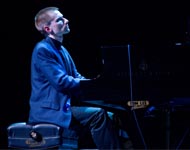 Edmonton-born, New-York-based John Stetch belongs in the pantheon of great Canadian pianists - from Oscar Peterson to Paul Bley to Renee Rosnes—who've greatly impacted the jazz scene.

Billboard magazine calls him "exceptional" while Jazz Times declares " an unlimited imagination, unique harmonic and rhythmic conceptions and the digital dexterity to execute any idea he hears." Read More